Meet our new Massage Therapist "Tia"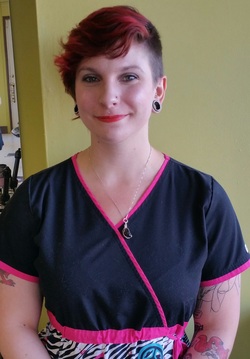 Hello my name is Anastasia but everyone calls me "Tia". I am energetic and witty. I attended the Cleveland Institute of Medical Massage and received my license on February 2012.

I absolutely love what I chose to do with my career! It is such a rewarding field. I believe that with my caring and healing touch I can help as many people as I can with massage therapy.

I am a firm believer that Massage Therapy is incredibly important in every aspect of our lives. Whether it is because we live a stressful life, employed at a physical job, an athlete with aches and pains, living with a pre-existing injury from an accident, or simply because you just want a day of pampering for yourself. Massage Therapy is a great remedy to help our bodies release muscle tension, allow blood flow, and overall just feel great within. Our bodies are constantly working to keep up with our busy lifestyles that we tend to forget to take care of it.

Call and set up an appointment for a massage with me. You deserve it and your body will thank you for it. (216) 785-4247

---
I'm happy to announce that our salon is now sponsoring Locks of Love. If you are interested on donating your hair to help children with medical hair loss. Please call our salon 216-785-HAIR for a free consultation and information. Thank you!